---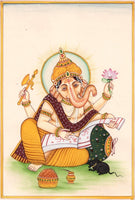 Ganesha the scribe with holy book Mahabharata
Subject: Indian Religious Miniature Painting

Paint Material: Opaque Watercolors

Base Material: Paper (unframed)

Size: 4 in. wide and 6.25 in. tall (10 cms X 16 cms)

Age: Modern Handmade Art

Country of origin: India

Free Shipping Worldwide & No hassle return
You'll love this extremely fine miniature of Lord Ganesha who is widely revered as the Remover of Obstacles.
The son of Shiva and Parvati, Ganesha is depicted with an elephant's head. Shown here with a rat which Indian mythology associates, believed to be able to pass anywhere, with one of Ganesha's roles, the Remover of Obstacles. Among the other attributes (symbols) that Ganesha holds here with his four arms are a lotus and the sacred Hindu text.
Shown also in the art is that Ganesha has a broken tusk and that is a tale worth telling. In the first part of the epic poem Mahabharata, it is written that the sage Vyasa (Vyāsa) asked Ganesha to transcribe the poem as he dictated it to him. Ganesha agreed, but only on the condition that Vyasa recite the poem uninterrupted, without pausing. The sage, in his turn, posed the condition that Ganesha would not only have to write, but would have to understand everything that he heard before writing it down. In this way, Vyasa might recuperate a bit from his continuous talking by simply reciting a difficult verse which Ganesha could not understand.
The dictation began, but in the rush of writing Ganesha's feather pen broke. He broke off a tusk and used it as a pen so that the transcription could proceed without interruption, permitting him to keep his word.
A striking Ganesha art that will provide you tranquility and a sense full of symbolism. Buy it now.