---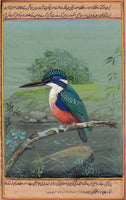 Half Collared Kingfisher
Subject: Indian Bird Miniature Painting

Paint Material: Watercolor

Base Material: Paper with Islamic scripts (unframed)

Size: 5 in. wide X 8.25 in. tall (13 cms X 21 cms)

Age: Modern Handmade Art

Country of origin: India

Free Shipping Worldwide & No hassle return.
Fill your home with the beauty of this exquisitely detailed & stunningly beautiful hand-made bird miniature from the western state of Rajasthan, India.
This image was painted by famous Jaipur wild life miniature artist, Mr. Narendra Katara.
The precise manner in which the splendidly patterned bird is depicted parallels a tradition of descriptive painting that had been practiced at many royal courts in India since the sixteenth century.
The Half-collared kingfisher is widespread but uncommon, with populations scattered across sub-Saharan Africa. In southern Africa, it is most common in Zimbabwe and South Africa's rivers, streams and estuaries. Its diet consists mostly of fish, which it hunts by sitting on a perch for long periods then, once it spots a fish, diving in to catch it. It nests in burrows dug into vertical riverbanks, which are excavated and where the eggs are incubated by both sexes.

Only one in stock. Don't miss out on this exclusive Kingfisher Bird artwork. Buy it now.