---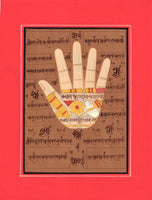 Handprint of Vishnu
Subject: Indian Miniature Religious Painting - Tantric Hindu Art

Paint Material: Opaque Watercolors

Base Material: Paper (unframed)

Size: 6 in. wide and 8 in. tall (15 cms X 20 cms)

Age: Modern Handmade Art

Country of origin: India

Free Shipping Worldwide & No hassle return
Feel the magic of this Tantric painting which is an exquisite work of art from the western state of Rajasthan, India.
This art depicts the hand or hath of Lord Vishnu. Shown in the handprint are significant objects connected with episodes in his mythology.
Illustrating Vishnu's handprints with objects connected with him is traditional in Hindu iconography. Pictures of his handprint are no less revered than other painted and sculptured images of Vishnu.
This art is rare and will make a fine addition to your Tantric Hindu art collection. Order it today.