---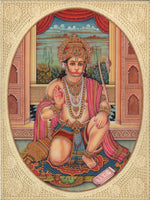 Hanuman Blessings
Subject: Hanuman Miniature Painting

Paint Material:Opaque Watercolors

Base Material: Faux (synthetic) Ivory (unframed)

Size: 9 in. wide X 12 in. tall (23 cms X 30.5 cms)

Age: Modern Handmade Art

Country of origin: India

Free Shipping Worldwide & No hassle return
Add some sparkle to your decor and provide an extra highlight to your Indian art collection with this exquisite Hanuman painting.
The artist has done a marvelous job with vivid, eye-catching colors to bring out the crisp details of this Hindu artwork....the painting simply has to be seen to be believed.
Lord Hanuman who is a Hindu deity and an ardent devotee of Rama, a central character in the Indian epic Ramayana. He is pictured as a robust monkey God who is revered for bravery, courage and hope.
Hanuman represents the perfect example of being a saga, seeker, a das, a servant of a great man and cause, a disciple, a doer, a believer, and a warrior. His greatness lies in using strength for the service of others. This artwork of Hanuman expresses and brings forth such a spirit of using strength for service of others.
Don't miss out on this exclusive art composition of Hanuman. Buy it today.