---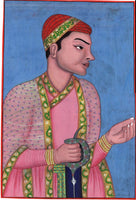 Muhammad Quli Qutb Shah (1580-1611)
Subject: Indian Portrait Painting

Paint Material: Opaque watercolors

Base Material: Paper (unframed)

Size: 10 in. wide and 15 in. tall (25.5 cms X 38 cms)

Age: Modern Handmade Art

Country of origin: India

Free Shipping & No hassle return
Presenting a traditional Indian portrait painting which reflects the royal status and authority of Muhammad Quli of the Qutb Shahi dynasty (or Golconda Sultanate).
The Qutb Shahi dynasty was a Muslim dynasty that initially patronized Persian culture. Its members were collectively called the Qutb Shahis and were the ruling family of the kingdom of Golconda in modern-day India. The dynasty ruled Golconda for 171 years, until the Mughal emperor Aurangzeb conquered the Deccan in 1687.
Muhammad Quli Qutb Shah (1580-1611 CE) was the fifth sultan of the Qutb Shahi dynasty of Golkonda in south India. He was an able administrator and his reign is considered one of the high points of the Qutb Shahi dynasty. He ascended to the throne in 1580 at the age of 15 and ruled for thirty-one years.
The unparalleled classic portrait art brings out the graceful and adventurous lifestyle of the Indian Deccan ruler. The exquisite art is bound to captivate viewers with its fine, fantastical detail.
This representation of a king through painting reminds us of an era where everything was governed by the kings. Let the feeling of the days of royalty be a part of your space via this artwork. Buy it today.