---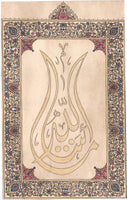 Decorative Holy Scribe
Subject: Islamic Calligraphy

Paint Material: Ink and gold colors

Base Material: Paper (unframed)

Size: 9 in. wide and 15 in. tall (23 cms X 38 cms)

Age: Modern Handmade Art

Country of origin: India

Free Shipping Worldwide & No hassle return
Get a spiritual feeling with this painting which is a fine work of Islamic calligraphy art depicting text from the holy book of Quran.
The brilliant artwork captures the writings of the word of God. You get a superbly hand-painted art on paper that contains Islamic scripts surrounded by stylized flower and motif designs also known as Tazhib.
Tazhib (gilding) is an Arabic word which has been derived from "zahab" meaning "gold". Gilding, in the context of this artwork, means to draw beautiful patterns of plants or geometrical shapes to cover and highlight calligraphic writings.
Don't miss out on this beautiful Islamic Calligraphy Artwork, buy today before it is gone.