---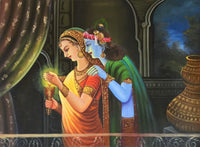 Krishna and Radha enamored by the Lamp
Subject: Krishna Radha Painting 

Paint Material: Opaque Oil colors

Base Material: Canvas (unframed)

Size: 23 in. wide X 17 in. tall (58.5 cms X 43 cms)

Age: Modern Handmade Art

Country of origin: India

Free Shipping Worldwide & No hassle return
Your decor will bear a dazzling and cultured look when adorned with this striking painting featuring Krishna and Radha.
Painted with rich, jewel-like subtle colors this compact composition of the Hindu deity is also bright, colorful and breathtakingly beautiful.
The rich variety of legends associated with Krishna and Radha's life led to an abundance of representation in paintings. This art captures one of the representations, where the divine couple are shown to be enamored by the light of the lamp. The canvas with Krishna and Radha is cool and playful. The artist has used several colors to represent attitude, playfulness, love and even lust. Krishna's blue is used in a perfect balance and is soothing to the eye.
The art seems to offer the viewer a sense of liberty from the task bound duties of their daily lives into something more subliminal along with a feeling of bliss.
To acquire this artwork of Krishna and Radha  – for yourself or as an unforgettable gift – don't delay. Order today!