---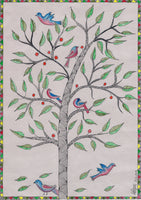 Tree of Life with Blue Birds
Subject: Madhubani Painting

Paint Material: Opaque acrylic & watercolors

Base Material: Paper

Size: 8.25 in. X 11.75 in. (21 cms X 30 cms)

Age: Modern Handmade Art

Country of origin: India

Free Shipping Worldwide & No hassle return
This painting is an exquisite work of Madhubani art featuring the Tree of Life with blue birds.
Madhubani painting or Mithila painting is a style of Indian painting, practiced in the Mithila region of Bihar state, India and the adjoining parts of Terai in Nepal. Paintings are characterized by eye-catching geometrical patterns.
The concept of a tree of life has been used in biology, religion, philosophy, and mythology. A tree of life is a common motif in various world theologies, mythologies, and philosophies. It alludes to the interconnection of all life on our planet and serves as a metaphor for common descent in the evolutionary sense.
An unique Indian ethnic  artwork for your decor or collection. Buy this Madhubani artwork today.