---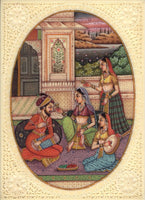 Melody and Moods
Subject: Mughal Miniature Painting

Paint Material: Opaque watercolors

Base Material: Eco friendly faux (synthetic) ivory (unframed)

Size: 5 in. wide X 7 in. tall (13 cms X 18 cms).

Age: Modern Handmade Art

Country of origin: India

Free Shipping Worldwide & No hassle return
Presenting a superb hand-made Mughal miniature painting. You are invited to relive the glory of the Mughal empire with this classic masterpiece of Indian history.
Grand in size, bold in design, mughal miniature paintings are unique in Indian art history. If only these paintings could talk, what stories they would tell!
Vivid, eye catching colors bring out the amazing details in the design of this painting. The stunning art must be seen to be believed!
Elegant in design, limited in supply and historically significant!, the paintings stately elegance makes an impressive addition to any room decor or your art collection.
Everything about this art is breathtaking—from the dramatic artistry bringing each subject to life, to the majestic portrait of the emperor in the mood for melodies and more. It will capture your imagination and highlight the beauty inherent in this artwork
Act fast to own this rare and sleek historical Mughal art for your valued collection, right now.