---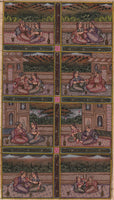 Mughal Royalty Images
Subject: Mughal Miniature Painting

Paint Material: Opaque watercolors

Base Material: Paper (unframed)

Size: 7 in. wide and 12.5 in. tall (18 cms X 32 cms)

Age: Modern Handmade Art

Country of origin: India

Free Shipping Worldwide & No hassle return
Presenting a superb hand-made Mughal miniature painting featuring eight scenes from the life and times of the Mughals. You are invited to relive the glory of the Mughal empire with this classic artwork of Indian history.
One of the most powerful and creative of all the world's dynasties, the Mughals ruled India from 1526 to 1858. The Mughals were great patrons of the arts, using them to underpin their political position and leaving behind a particularly rich legacy of visual art.
You can now own a rare and sleek historical Mughal art for your valued collection or decor, so acquire it today.