---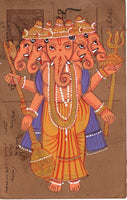 Five Head (Panchamukhi) Ganesha
Subject: Ganesha Miniature Painting

Paint Material: Opaque watercolors

Base Material: Old Post Card (unframed)

Size: 3.5 inches wide and 5.5 inches tall (9 cms X 14 cms)

Age: Modern Handmade Art

Country of origin: India

Free Shipping Worldwide & No hassle return
Flaunt your love for Ganesha in style with this colorful and detailed miniature painting.
Panchamu- khi Ganesha is shown having five faces . Pancha means Five and mukhi means faced. Panchmukhi Ganesha is embodiment of all potencies.
Easily recognizable by his elephant head and his large belly, the Hindu god Ganesh (also known as Ganesha) is the god of wisdom, learning, and success. This fine Ganesh painting tends to focus on these qualities and is bound to make a fantastic addition to your collection of Hindu art.
Don't miss out on this exclusive artwork composition of Lord Ganesha. Buy it now.