---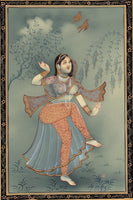 Ragini in dance pose
Subject: Indian Miniature Rajasthani Painting

Paint Material: Opaque Watercolors

Base Material: Eco-friendly synthetic laminate (unframed)

Size: 4 in wide & 6 in tall (10 cms X 15 cms)

Age: Modern Handmade Art

Country of origin: India

Free Shipping Worldwide & No hassle return
You will love this colorful Rajasthani Ragamala art.
It is a beautiful watercolor painting with all the finesse of a princess dancing to the beat of an imaginary musical melody, against a lush natural backdrop.
Painting is full of grandeur and color that captures the contemplative mood of the subject.
The Ragini paintings are named for an ancient tradition of Indian miniature paintings which reflect the mood of a young maiden who seeks solace and joy in a imagined world of dematerialized landscape and rhythmic ragas.
Ragamala Paintings are a series of illustrative paintings from medieval India based on Ragamala or the 'Garland of Ragas', depicting various Indian musical nodes, Ragas. They stand as a classical example of the amalgamation of art, poetry and classical music in medieval India. The paintings depict not just the Ragas, but also their wives, (raginis).

Don't deprive your art collection of this unique Rajasthani Indian artwork. Buy it now and give it an ethnic color.