---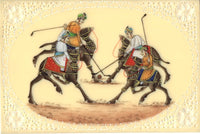 Maharajah's Camel Polo

Subject: Rajasthani Miniature Painting

Paint Material: Opaque watercolors

Base Material: Eco Friendly Faux (synthetic) Ivory (unframed)

Size: 6 in. wide X 4 in. tall (15 cms X 10 cms)

Age: Modern Handmade Art

Country of origin: India

Free Shipping Worldwide & No hassle return
Presenting a rare and dazzling Rajasthani miniature painting you will not find elsewhere. It is a handmade depiction of a game of polo at court in the Rajput Empire.
Polo is one of the oldest team sports known to man. A game of central Asian origin, one of the earliest references to the game in Persia (Iran), known there as chaugan (meaning mallet), is in Karmamak-i-Ardishi-i-Papakan. It mentions that the founder of Sassanian dynasty Ardashir was adept at the sport.
In India the Mughal emperors first introduced the sport and which was later adopted by the royalty of Rajasthan.
The modern artist has executed the painting in minute delicacy with a marked attention to detail of the dazzling melee of camels and the royal polo players along with some of the other objects common in polo. The art brings out the specter of the game and will make you feel like you are live at the royal sport.
Very traditional ethnic Indian artwork that brings out the rich craftsmanship and lifestyle of another era.
And you have a chance right now to experience and add to your collection this historical Rajasthani Polo Sport artwork. Buy it before it is gone.
NOTE: Faux (or artificial) ivory, on which this artwork has been done, is a special polymer clay with the characteristics of real ivory. Faux ivory sheets have a natural ivory grain pattern and are used for painting, molding and carving. An environmentally friendly alternative to real ivory.