---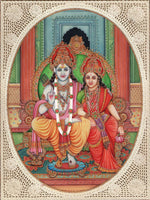 Rama Sita - Ram Durbar
Subject: Ram Sita Painting

Paint Material: Opaque Watercolors

Base Material: Faux (synthetic) Ivory (unframed)

Size: 9 in. wide X 12 in. tall (23 cms X 30.5 cms)

Age: Modern Handmade Art

Country of origin: India

Free Shipping Worldwide & No hassle return
You'll love the unique blend of religion, color and craft exhibited in this Indian religious miniature artwork. The miniature painting of Rama & Sita has been meticulously painted for an unparalleled level of detail and mirror-like brilliance. Vivid, eye catching colors bring out the amazing details in the design of this painting. The stunning art must be seen to be believed!
Rama which means 'one who permeates and who is present in everything and everyone' is the seventh avatar of Vishnu. Sita is also regarded as an avatar of the goddess Lakshmi, consort of Vishnu. When Vishnu took on human form as Rama, Lakshmi took on human form as Sita.

Rama is the model of reason, right action and commendable virtues. He is often depicted with a tall conical cap which symbolizes his royal status. Sita and Rama are the model wife and husband in the Hindu tradition.
Full of grandeur and beauty, the delicacy of this painting with its exquisite details, will be a perpetual source of pleasure for your eyes as well as your mind.
Don't miss out on this exclusive artwork composition of Lord Rama and his beloved Sita made in the traditional Indian miniature style. Be the first to buy it.
Note: Faux (or artificial) ivory is a special polymer clay with the characteristics of real ivory. Faux ivory sheets have a natural ivory grain pattern and are used for painting, molding and carving. An environmentally friendly alternative to real ivory.