---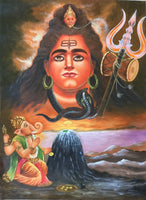 Ganesha worships Shiva
Subject: Indian Religious Miniature Painting

Paint Material: Oil Colors

Base Material: Canvas (unframed)

Size: 17 in. wide and 23 in. tall (43 cms X 58.5 cms)

Age: Modern Handmade Art

Country of origin: India

Free Shipping Worldwide & No hassle return
Presenting a rare painting of the Hindu deity Lord Ganesha worshiping his father Lord Shiva. 
According to Hindu mythology, Lord Ganesha's mother, Goddess Parvati, carved an idol of a boy out of turmeric powder and breathed life into it, unbeknownst to her husband, Lord Shiva. So, when Ganesha denied Lord Shiva entry into his abode, because Goddess Parvati was bathing inside, Shiva decapitated Ganesha's head in anger. According to legend, an elephant was the first animal that Lord Brahma later found when he went out to look for one (to replace Ganesha's head).
The artwork contains the most common features of Shiva which include, the third eye, a cobra necklace, the vibhuti and the trident. It also features, His linga (symbol) which is a type of stone. Also shown is Ganga-devi who lives in his matted locks; thus wherever Shiva appears, the water of the Ganges appears also.
The painting in fine colors and detail, displays a humble Ganesha respectfully praying to a tranquil Shiva in austere settings. 
Acquire this Shiva Ganesha art of unrivaled beauty for yourself or as an unforgettable gift. Order today before it is gone.
NOTE: This art will be mailed rolled in a tube.