---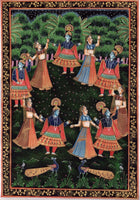 Rasleela – Krishna Radha Miniature  
Subject: Indian Religious Miniature Painting – Rasleela

Paint Material: Opaque Watercolor

Base Material: Silk (unframed)

Size: 13 in. wide X 19 in. tall (33 cms X 48 cms)

Age: Modern handmade art

Country of origin: India

Free Shipping & No hassle returns
Fill your home with the beauty of this remarkable & stunningly beautiful hand-made artwork from India depicting the Rasleela.
The term, ras meaning "aesthetics" and leela meaning "act," "play" or "dance" is a concept from Hinduism, which roughly translates to "play (leela) of aesthetics (ras)," or more broadly as "Dance of Divine Love".
The rasleela takes place one night when the gopis of Vrindavan, upon hearing the sound of Krishna's flute, sneak away from their households and families to the forest to dance with Krishna throughout the night, which Krishna supernaturally stretches to the length of one Night of Brahma, a Hindu unit of time lasting approximately 4.32 billion years. In the Krishna Bhakti traditions, the rasleela is considered to be one of the highest and most esoteric of Krishna's pastimes. In these traditions, romantic love between human beings in the material world is seen as merely a diminished, illusionary reflection of the soul's original, ecstatic spiritual love for Krishna, God, in the spiritual world.

This painting is an exquisite work of art that depicts Lord Krishna and his favorite gopi ('cow-herding maiden') Radha doing the divine dance of love. Set against a backdrop of a lush green garden, the artwork is a medley of Hindu mysticism, eternal love and blessings of mother nature.
It will make a superb display in your home or office for a brilliant showcase of fine artistry and you are bound to get many compliments even as the art of rasleela brings a festive touch to your decor.
Don't miss out on this exclusive Krishna artwork. Buy it now.
NOTE: The art will be shipped rolled in a tube.