---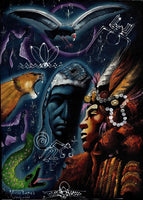 Peruvian Cycle of Life
Subject: Peru Cusco Painting

Paint Material: Opaque Oil Colors

Base Material: Velvet (unframed)

Size: 14 in. wide X 19 in. tall (35.5 cms X 48.5 cms)

Age: Modern Handmade Art

Country of origin: Peru

Free Shipping Worldwide & No hassle return
Brighten your day with this charming handmade painting of the legendary Peruvian mythology of the "Peruvian cycle" which is replenished with the story of the most revered animals in Peru. Being the link between the present and the past, the animals play an important role in the life of this nation. 
Wise ancestors of the modern Peruvians, the ancient Incas, were living in harmony with all life that surrounded them. In their opinion, all living creatures, had their energy and consciousness which cannot be measured or estimated by any means, but it is necessary to accept and respect them as a part of the whole process of life on earth. Traveling through this very religious country, you are sure to hear a lot of legends and myths, including stories told by local guides about three worlds, three levels of consciousness which are represented by the sacred animals of the Incas. It symbolizes three universes: underground world of the dead ancestors, represented by the snake; the earthly world of the present, here and now, represented by the Puma; and the heavenly abode of the gods, represented by the condor.
You can relive the glory of the Inca Empire and the Peruvian cycle of Life by owning this classic masterpiece painting.
Don't miss out on this exclusive Peruvian Inca style artwork composition of the scared animals of Peru and Inca kings. Buy it now.
NOTE: This art will be mailed to you rolled in a tube.