---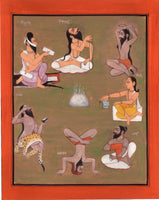 The Seven Great Sages – SaptaRishis
Subject: Yoga Miniature Art

Paint Material: Opaque Watercolors

Base Material: Paper (unframed)

Size: 11 in. wide and 14 in. tall (28 cms X 35.5 cms)

Age: Modern Handmade Art

Country of origin: India

Free Shipping Worldwide & No hassle return
Presenting for your personal collection a beautiful miniature Yoga art.
This rare painting invites wonder at India's extraordinary artistic heritage and with it you will feel the magic and spiritual enlightenment of Yoga. The art of Yoga constitutes a visual archive that attempts to capture one or several of its attributes, as a philosophical school, a Hindu tradition, a spiritual science and an exercise regimen.
The art featured represents the seven sages (saptarishi) extolled within Hindu sources as the authors of the Vedas and the stars in the Big Dipper. SaptaRishis, are the seven great sages in Indian Mythology. They have attained a semi-immortal status, that of an exceedingly long life span due to their Yogic power and by the power of their penance.
Clustered around a smoldering campfire, the lotus-eyed sages constitute a localized and historically contingent typology of ascetic practice that includes an orthodox Hindu wearing a sacred thread and resting his outstretched arm on a ritual ves-sel (Vasishta, center right) and a dusky practitioner of hatha yoga inverted in a headstand (Bharadvaja, bottom register). Though hatha yoga took form long after the sages became legend, the painting reveals the extent to which transcendence-seeking ascetics existed together as members of allied traditions.
Add this mesmerizing yoga painting of the seven great sages (saptarishis) to your collection. Buy it now.