---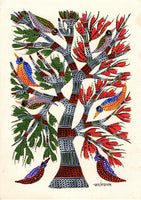 Tree of Life
Subject: Gond Painting

Paint Material: Acrylic colors

Base Material: Paper (unframed)

Size: 7 in. X 10 in. (18 cms X 25.5 cms)

Age: Modern Handmade Art

Country of origin: India

Free Shipping Worldwide & No hassle return
Presenting an exquisite work of Gond Painting featuring the tree of life. 
The concept of a tree of life has been used in biology, religion, philosophy, and mythology. A tree of life is a common motif in various world theologies, mythologies, and philosophies. It alludes to the interconnection of all life on our planet and serves as a metaphor for common descent in the evolutionary sense.
Gond paintings are a form of painting from folk and tribal art that is practiced by one of the largest tribes in India with whom it shares its name. Gond paintings are a reflection of man's close connection with his natural surroundings. It is said that Gond paintings resemble aboriginal art from Australia.
Gond paintings can best be described as 'on line work' that has an immediate effect on the viewer. Lines are used in such a way that it conveys a sense of movement to the still images. Dots and dashes are added to impart a greater sense of movement and increase the amount of detail. The artwork is finished in bright vivid colors. 
An unique handmade Indian tribal artwork that will provide a striking appearance to your decor or painting collection. Buy this Gond art today.