---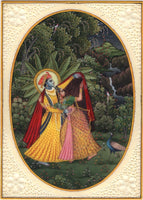 Krishna & Radha and impending rain
Subject: Krishna Radha Painting

Paint Material: Opaque Watercolors

Base Material: Faux (synthetic) ivory (unframed)

Size: 5 in. wide and 7 in. tall (13 cms X 18 cms)

Age: Modern Handmade Art

Country of origin: India

Free Shipping Worldwide & No hassle return
Fill your home with the beauty of this exquisitely detailed & stunningly beautiful hand-made Krishna Radha painting.
Dark clouds fill the sky; it is about to rain. The scene alludes to a legend in which Krishna raised Mount Govardhana to shield the inhabitants of Braj from a maelstrom sent by the god Indra. In this painting, a cloak suffices to convey the meaning. 
Lord Krishna and Lady Radha will delight family and friends and deserve a special place in your home. It's also a great way to spread happiness as a thoughtful gift for anyone who loves Indian Art and the beauty of the love of God as personified by Krishna & Radha.
For earliest possible delivery of your art, don't delay. Order today.
NOTE: Faux (or artificial) ivory, on which this artwork has been done, is a special polymer clay with the characteristics of real ivory. Faux ivory sheets have a natural ivory grain pattern and are used for painting, molding and carving. An environmentally friendly alternative to real ivory.