---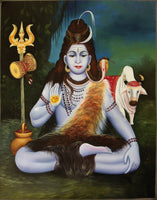 Lord Shiva with Nandi Bull
Subject: Indian Religious Miniature Painting

Paint Material: Oil

Base Material: Canvas (unframed)

Size: 18 in. wide X 23 in. tall (46 cms X 58.5 cms)

Age: Modern Handmade Art

Country of origin: India

Free Shipping Worldwide & No hassle return
Presenting a magnificent painting of the Hindu deity Lord Shiva with the Nandi Bull.
Lord Shiva represents the aspect of the Supreme Being (Brahman of the Upanishads) that continuously dissolves to recreate in the cyclic process of creation, preservation, dissolution and recreation of the universe. Lord Shiva is the third member of the Hindu Trinity, the other two being Lord Brahma and Lord Vishnu.
Nandi is the name for the bull which serves as the mount of the god Shiva. Nandi is said to be Shiva's main form of transportation and most ardent devotee.
Along the same lines, Nandi is regarded as the gatekeeper and protector of Shiva as well as Shiva's consort the Hindu Goddess Parvati. He can be found in many temples dedicated to Shiva throughout Asia seated and facing the main temple as protector. His name, Nandi, is even used as metaphor meaning "to stand in the way of". It is said that one must first gain the approval of Nandi before being allowed worship of Lord Shiva himself.
Acquire this Shiva and Nandi art of unrivaled beauty for yourself or as an unforgettable gift. Order today before it is gone.