---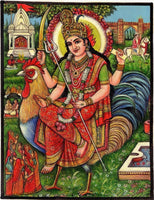 Bahuchar Mata
Subject: Indian Religious Miniature Painting – Hindu Goddess

Paint Material: Oil colors

Base Material: Canvas (unframed)

Size: 9 in. (23 cms) wide and 12 in. (30.5 cms) tall

Age: Modern Handmade Art

Country of origin: India

Free Shipping Worldwide & No hassle return
Brighten your day with this charming handmade painting of Goddess Bahuchar Mata (mother). 
Bahuchara Mata who is worshiped by a large sect of Hindus, is shown as a woman who carries a sword on her top right, a text of scriptures on her top left, the abhay hasta mudra ("showering of blessings") on her bottom right, and a trident on her bottom left. She is seated on a rooster, which symbolizes innocence.
Add this bright art of Bahuchar Mata to your collection today. Buy it now.