---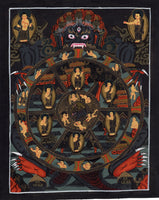 Bhavachakra Thanka  
Subject: Indian Religious Miniature Painting –  Buddha Mandala

Paint Material: Opaque Watercolor

Base Material: Cotton (unframed)

Size: 7 in. wide X 9 in. tall (18 cms X 23 cms)

Age: Modern handmade art

Country of origin: India

Free Shipping Worldwide & No hassle return
Fill your home with the beauty of this exquisitely detailed & stunningly beautiful hand-made Bhavachakra Thanka painting.
This is a hand painted Thangka depicting the Wheel of Life. The Wheel of Life or Bhavachakra is one of the most arresting subjects of the Buddhist Thanka paintings. Not only is it rich in symbolism, but it also captures key aspects of the Buddha's teaching, including rebirth, Karma and dependent origination.
The Wheel of Life Thangkas generally show the six realms of existence into which a being is continually reborn unless they attain Nirvana.
The wheel of deluded existence is held by Mara, the Tibetan version of the Indian Yama (the God of death), pictured here as a sharp-taloned, fanged demon.
The Wheel of Life Buddhist Thankas were used originally as teaching aids, leading men towards the correct path of spiritual freedom. In a modern, technologically advanced age, these Thankas continue to have relevance as a venerated art form and also as religious aids of profound iconic value.
Bhavachakra Mandala will delight family and friends and deserves a special place in your home. It's also a great way to spread happiness as a thoughtful gift for anyone who loves Buddhist Art and the beauty of the blessing of God as personified by this form of Buddha.
Don't miss out on this exclusive Buddha Thanka artwork. Buy it today.