---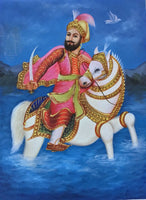 Guru Gobind Singh on horseback

Subject: Sikh Painting 

Paint Material: Opaque oil colors

Base Material: Canvas (unframed)

Size: 17 in. wide X 23 in. tall (43 cms X 58.5 cms)

Age: Modern Handmade Art

Country of origin: India

Free Shipping Worldwide & Hassle free return
Presenting an extremely fine and detailed work of art depicting the tenth Guru of Sikhism – Guru Gobind Singh.
Guru Gobind Singh is the 10th master in Sikh Dharma. He is known for founding Khalsa (meaning pure). The people of Khalsa followed Guru Gobind Singh because of his dedication and courage.
This painting shows the Guru on a majestic white horse. He is painted with color clothing to show status, and with sword in hand to depict that he is possibly about to be in battle. He stood and fought against injustice. He is painted in the forefront of the picture against a scenic aquatic background.
This brilliant equestrian portrait artwork shows the Guruji in his finest bringing out his great character and charisma.
Owning this splendid Sikh art of Guru Gobind Singh will be a smart way to bring a unique style to your home or office. Buy it today before it is gone.