---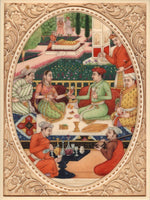 Mughal Prince Dara Shikoh in a Graden
Subject: Mughal Miniature Painting

Paint Material: Opaque Watercolors

Base Material: Eco friendly faux (synthetic) ivory (unframed)

Size: 6 in. wide & 8 in. tall (15 cms X 20 cms)

Age: Modern Handmade Art

Country of origin: India

Free Shipping Worldwide & No hassle return
Add the subtle sophistication of this stunning Mughal Miniature Painting to your own collection.
Custom crafted and featuring an exquisite finish, this artwork is bound to add an instant exotic flair to your home decor. It will grace any room with its unique blend of elegance and natural beauty.
The superb artwork captures the eminently aristocratic Mughal prince Dara Shikoh (son of Shah Jahan) and his guests.The prince has been portrayed with learned and talented friends at the height of his power, when music, poetry, and serious conversation were his chief concerns.
The setting verges on paradise: a garden fragrant with flowers and a platform covered with superb carpets. A servant offers wine, others wait attentively, and in the distance a bed is prepared for Dara's rest after the party.
Keeping with the tradition of such art it is enclosed with an attractive floral border. This artwork has been painted by Mr. Suresh Lohar, who is an award winning Mughal miniature artist from Udaipur, Rajasthan, India. He has described the scene with masterful style, delighting in such passages as the reflections on glass, transparency of wine, and cast shadows. 
This unparalleled classical Mughal art is ready to be displayed or added to your collection or served as a wonderful gift. Buy it today before it is gone.
Note: Faux (or artificial) ivory is a special polymer clay with the characteristics of real ivory. Faux ivory sheets have a natural ivory grain pattern and are used for painting, molding and carving. An environmentally friendly alternative to real ivory.