---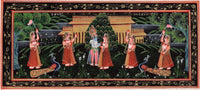 The Garden Encounter
Subject: Krishna Radha Painting

Paint Material: Opaque Watercolors

Base Material: Silk (unframed)

Size: 12.5 in. wide and 5.5 in. tall (32 cms X 14 cms)

Age: Modern Handmade Art

Country of origin: India

Free Shipping Worldwide & No hassle return
You'll love this colorful and detailed miniature painting of Krishna & Radha depicted with a fine brush.
Radha & Krishna in a blissful garden encounter and surrounded by gopis (cow-herd girls) bring to the attention of humanity the true picture of love and devotion.
When it comes to love stories, perhaps none is as well-known as that of the God Krishna and the cow-herder's daughter Radha. As such, it has prompted hundreds of thousands of depictions throughout the art world, including breathtaking Krishna Radha paintings, such as this one.
Don't miss out on this exclusive artwork composition of Lord Krishna and his beloved Radha. Buy it now.