---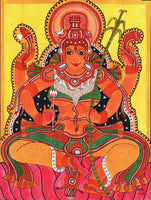 Sri Rajarajeshwari Devi
Subject: Kerala Mural Painting

Paint Material: Acrylic colors

Base Material: Canvas Board (unframed)

Size: 12 in. wide X 15.75 in. tall (30.5 cms X 40 cms)

Age: Modern Handmade Art

Country of origin: India

Free Shipping Worldwide & No hassle return
Add a conversation piece with a festive touch to your decor with this striking Kerala Mural painting featuring Sri Rajarajeshwari, the supreme Goddess of the universe.
Sri Rajarajeswari Devi is the consort of Lord Shiva. In Hindu Religion there are said to be Eight Lords who govern each directions of our Universe. They are called Ashta Digpalakas. Their governing directions are also called as Raja. the Trimurthis - Brahma, Vishnu and Maheswara are the Over lords of Ashta Digpalakas. They are called as Rajeswar. The Goddess who rules over these Trimurthis is called as Rajarajeshwari.
Rich and intricate, this compact composition is also bright, colorful and breathtakingly beautiful.
This art has been painted by Gowri Murali, a self taught artist of Kerala Murals, from Mumbai, India.
Kerala mural paintings are the frescos depicting mythology and legends, which are drawn on the walls of temples and churches in South India, principally in Kerala. Ancient temples, churches and palaces in Kerala, South India, display an abounding tradition of mural paintings mostly dating back between the 9th to 12th centuries CE when this form of art enjoyed Royal patronage.
Traditional paintings were made on walls but today any surfaces like paper, canvas, cardboard, plywood and terracotta can be used for murals.The human and divine forms are drawn in a stylized form. Elongated eyes, painted lips and finely drawn eyebrows are the characteristics of these paintings.
Kerala Murals are great for any traditional interior decor and at the same time give a touch of ethnicity to contemporary interiors.
Get one for your decor or collection today.