---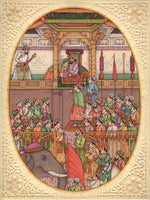 Jahangir receives Prince Khurram after the Mewar campaign
Subject: Mughal Miniature Painting

Paint Material: Opaque watercolors

Base Material: Faux (synthetic) ivory (unframed)

Size: 6 in. wide and 8 in. tall (15 cms X 20 cms)

Age: Modern Handmade Art

Country of origin: India

Free Shipping Worldwide & No hassle return
You'll love the sumptuous illustration of a 17th century Mughal period art. It shows Jahangir receiving Prince Khurram (young Shah Jahan), on his return from the successful Mewar campaign, in the Diwan-I Amm (hall of audience) in the city of Agra in 1615.
Savor the moment of pomp and show with colorful costumes, decorated courtiers & animals and striking Mughal architecture.
The design of this stunning enriched art is enhanced with an incredible level of design detail and range of vibrant colors, creating an unparalleled masterpiece.

If you are eager to hold in your discerning hands what has to be one of the most beautiful human creations ever conceived, if you wish to celebrate the beauty and majesty of fine art, if you want to display with pride in your home to family and friends a fascinating art that is so unique that it is bound to stimulate awe and conversation for years to come--then this is it!
Don't miss the opportunity to acquire this one of a kind Mughal Miniature Painting. Buy it today. Only one in stock.
NOTE: Faux (or artificial) ivory, on which this artwork has been done, is a special polymer clay with the characteristics of real ivory. Faux ivory sheets have a natural ivory grain pattern and are used for painting, molding and carving. An environmentally friendly alternative to real ivory.