---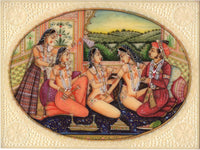 Intimate Encounters...
Subject: Mughal Miniature Painting

Paint Material: Opaque watercolors

Base Material: Faux (synthetic) ivory (unframed)

Size: 8 in. wide and 6 in. tall (20 cms X 15 cms)

Age: Modern Handmade Art

Country of origin: India

Free Shipping Worldwide & No hassle return
Presenting a strikingly beautiful and picturesque handmade Mughal Miniature Painting detailing an erotic harem scene.
You'll love this superb artwork which captures the Mughal emperor enjoying a romantic interlude in the open terrace harem court.
You'll be transported back in time to embark on a walk through the intricate corridors of the Mughal era. You will savor the moment of pomp and show with colorful costumes, decorated courtiers & striking Mughal architecture.
The painting holds a timeless charm and fuses historical images that appear to dissolve into sensuous, contemporary forms and narratives. Exercising his liberty abounding with dramatic colors, the artist has tried to create a romantic atmosphere that has the potential to please the aesthetic senses.
Don't miss the opportunity to acquire this glorious, exciting and thought provoking Indian Mughal artwork. Buy it now and add an instant exotic flair to your home, den or office decor.
NOTE: Faux (or artificial) ivory, on which this artwork has been done, is a special polymer clay with the characteristics of real ivory. Faux ivory sheets have a natural ivory grain pattern and are used for painting, molding and carving. An environmentally friendly alternative to real ivory.