---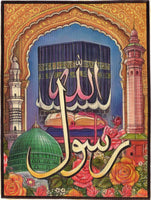 Quran Mecca Islamic Art
Subject: Indian Islamic Painting

Paint Material: Opaque Oil colors

Base Material: Canvas (unframed)

Size: 9 in. wide and 12 in. tall (23 cms X 30.5 cms)

Age: Modern Handmade Art

Country of origin: India

Free Shipping Worldwide & No hassle return
Presenting a superb handmade art of Mecca and Quran – Islam's holiest symbols.
It illustrates the holy city, the Qur'an, some beautiful calligraphy and other symbolic objects, which gives the viewer a deeper feel on the holiness of Islam.

Mecca is the birthplace of Muhammad (PBUH) and a site of the Prophet's first revelation of the Quran. Mecca is regarded as the holiest city of Islam and is home to the Kaaba, Islam's holiest site and the center of the Islamic universe.
Experience for yourself this holy and historical Islamic artwork, which will also make an impressive addition to your art collection. Buy it today.