---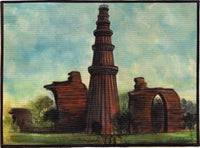 Qutab Minar
Subject: Indian Legendary Monument Painting

Paint Material: Opaque Oil colors

Base Material: Canvas (unframed)

Size: 12 in wide and 9 in tall ( 30.5 cms X 23 cms)

Age: Modern Handmade Art

Country of origin: India

Free Shipping Worldwide & No hassle return
Presenting a beautiful painting of the famous Indian monument – Qutab Minar.
Qutub Minar is the tallest minaret in India. Located in Delhi, India, the Qutub Minar is made of red sandstone and marble. The tower has 379 stairs, is 72.5 metres (237.8 ft) high, and has a base diameter of 14.3 metres, which narrows to 2.7 metres at the top storey. Construction was started in 1192 by Qutub-ud-din Aibak and was completed by Iltutmish. It is surrounded by several other ancient and medieval structures and ruins, collectively known as the Qutub complex.
The details in this historical architectural painting of the Qutab Minar are beautiful and painstakingly accomplished. It is bound to make an impressive addition to your art collection or for sprucing up the home. Buy it today.