---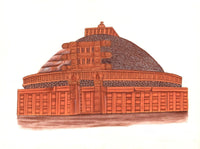 Sanchi Buddhist Stupa
Subject: Indian Legendary Monument Painting

Paint Material: Opaque Watercolors

Base Material: Paper (unframed)

Size: 12 in. wide X 9 in. tall (30.5 cms X 23 cms)

Age: Modern Handmade Art

Country of origin: India

Free Shipping & No hassle return
You will treasure this art of the famous & magnificent Sanchi Buddhist Stupa (shrine) painted in glowing subtle colors.
The Great Stupa at Sanchi is one of the most important Buddhist monuments reflecting gem of Buddhist art and architecture. Located at Sanchi Town, Madhya Pradesh, India, this Stupa is the oldest stone structure in India that was built during the Mauryan period. Originally commissioned in the third century BCE by Emperor Ashoka this huge hemispherical dome with a height of 12.2816.46 m (54.0 ft) consists of a central chamber where the relics of Lord Buddha are placed. Four ornamental gateways facing four directions and a balustrade surrounding the Stupa were later added in the first century BCE. A typical example of a Stupa and an excellent illustration of the development of Buddhist art and sculpture starting from the third century BC through the twelfth century AD, the Sanchi Stupa attracts hundreds of visitors from across the world. 
The details in this architectural painting of the Sanchi Buddhist Stupa are beautiful and painstakingly accomplished. It is bound to make an impressive addition to your art collection or for sprucing up the home. Buy it today.