---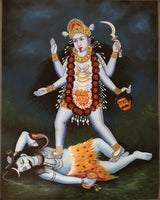 Goddess Kali and Shiva
Subject: Indian Religious Painting

Paint Material: Opaque oil colors with emboss

Base Material: Canvas (unframed)

Size: 18 in. wide X 22.5 in. tall (46 cms X 57 cms)

Age: Modern Handmade Art

Country of origin: India

Free Shipping Worldwide & No hassle return
With this mesmeric embossed artwork you can feel the magic of Kali who is the Goddess of Destruction and Dissolution in Hinduism.
In her most famous pose as presented in this painting, popular legends say that Kali, becoming drunk on the blood of her victims on the battlefield, dances with destructive frenzy. She is about to destroy the whole universe when, urged by all the gods, Shiva lies in her way to stop her.
In her fury, she fails to see the body of Shiva lying among the corpses on the battlefield and steps upon his chest. Realizing Shiva lies beneath her feet, her anger is pacified and she calms her fury.
Popular legends state that Kali was ashamed at the prospect of keeping her husband beneath her feet and thus stuck her tongue out in shame.
Add this art to your collection or decor and bring home one of the most popular Goddesses of India - Kali.