---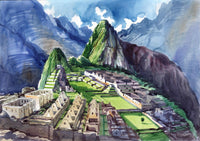 Machu Picchu
Subject: Peru Legendary Monument Painting

Paint Material: Opaque WaterColors

Base Material: Paper (unframed)

Size: 20 in. wide X 14 in. tall (51 cms X 35.5 cms)

Age: Modern Handmade Art

Country of origin: Peru

Free Shipping Worldwide & No hassle return
Brighten your day with this charming handmade painting of the legendary Peruvian monument, Machu Picchu. 
Machu Picchu is a 15th-century Inca citadel situated on a mountain ridge 2,430 metres (7,970 ft) above sea level. It is located in the Cusco region in Peru. Most archaeologists believe that Machu Picchu was built as an estate for the Inca emperor Pachacuti (1438–1472). The Incas built the estate around 1450 but abandoned it a century later at the time of the Spanish Conquest. Machu Picchu was built in the classical Inca style, with polished dry-stone walls. In 2007, Machu Picchu was voted one of the New Seven Wonders of the World in a worldwide Internet poll.
You can relive the glory of the Inca Empire  by owning this classic masterpiece painting.
Don't miss out on this exclusive Peruvian Inca style artwork composition of Machu Picchu. Buy it now.