---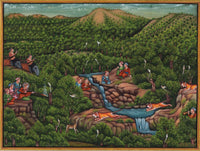 Tiger & Elephant Hunt
Subject: Mughal Miniature Painting

Paint Material: Opaque watercolors

Base Material: Eco friendly Faux (synthetic) Ivory (unframed)

Size: 8 in. wide and 6 in. tall (20 cms X 15 cms)

Age: Modern Handmade Art

Country of origin: India

Free Shipping Worldwide & No hassle return
Add the subtle sophistication of this magnificent Mughal Miniature Painting to your own collection
The medieval Indian scene provides a vivid glimpse of a favorite past time of the Mughal emperors, namely the Royal Hunt.
Hunting was not just a royal sport. It provided the king with practical experience for war. It also demonstrated his ability to protect his subjects, offered evidence of his virility, and symbolized his control over the natural world.
This is Mughal art at its finest and presented just for you.
Every image of man, beast and the lush background jungle is captured in stunning color and detail.
Don't miss out on this exclusive Mughal artwork! Buy it now before it is gone.
NOTE: Faux (or artificial) ivory, on which this artwork has been done, is a special polymer clay with the characteristics of real ivory. Faux ivory sheets have a natural ivory grain pattern and are used for painting, molding and carving. An environmentally friendly alternative to real ivory.