---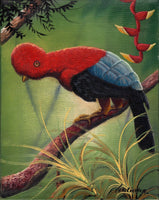 Andean cock-of-the-rock Bird
Subject: Peruvian Nature Painting 

Paint Material: Acrylic Colors

Base Material: Canvas (stretched on frame)

Size: 8 in. wide and 10 in. tall (20 cms X 25.5 cms)

Age: Modern Handmade Art

Country of origin: Peru

Free Shipping Worldwide & No hassle return
Presenting an extremely fine and unique handmade miniature work of nature bird art. It depicts the Andean cock-of-the-rock.
The Andean cock-of-the-rock, also known as tunki (Quechua), is a large bird native to Andean cloud forests in South America. It is widely regarded as the national bird of Peru. The Andean cock-of-the-rock male has a large disk-like crest of a brilliant color plumage, while the female is significantly darker and browner. Even though it is being affected by destruction of its habitat, the Andean cock-of-the-rock is not classified as threatened.
Capturing the beauty of the bird kingdom through fine paintings has been a favorite theme of Peruvian paintings since the times of the Incas and continues till today as evidenced by this art.
Through this artwork the artist has captured the whole essence and gamut of the most common Peruvian bird. It is richly drawn and depict the maximum possible detail that brings out a feeling of earthly charm and pleasure.
It is indeed an art to cherish and a collector's delight.
Buy this nature painting from Peru depicting the Peruvian national bird today for your art collection and enjoy the delights of nature's bird kingdom.
NOTE: The art is on stretched canvas and can be hung on wall as is or be re-framed.