---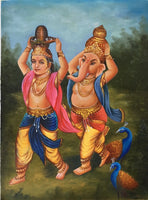 Lord Murugan and Ganesha with Shiva Lingam
Subject: Indian Hindu Diety Painting 

Paint Material: Opaque oil colors

Base Material: Canvas (unframed)

Size: 17 in. wide X 23 in. tall (43 cms X 58.5 cms)

Age: Modern Handmade Art

Country of origin: India

Free Shipping Worldwide & Hassle free return
Presenting a rare and unique artwork of Hindu deities Murugan and Ganesha.They are shown carrying on their heads abstract representations (including the Shiva Lingam) of their father, the Hindu deity Shiva. 
Murugan, also known as Kartikeya is the Hindu god of war. He is the son of Parvati and Shiva, brother of Ganesha, and a god whose life story has many versions in Hinduism. Ganesha is one of the best-known and most worshiped deities in the Hindu pantheon.
The painting is a glowing tribute to the sons of Shiva. It is a traditional art form in which considerable importance is given to symbolism, rich detailing, bright colors and intricate drawing.
Garner the blessings of the Hindu God brothers, Murugan and Ganesha, by bringing this artwork to your home or office. Buy it today.