---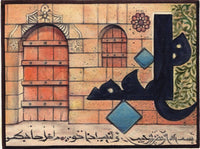 House of the Prophet
Subject: Indian Islamic Miniature Painting

Paint Material: Opaque oil colors

Base Material: Canvas (unframed)

Size: 12 in. wide X 9 in. tall (30.5 cms X 23 cms).

Age: Modern Handmade Art

Country of origin: India

Free Shipping Worldwide & No hassle return
Presenting a superb handmade art of the residence of Prophet Muhammad (PBUH). The Islamic Prophet led a life of simplicity and poverty. His house, built of mud walls and thatched with date-palm leaves was humbling and gives the viewer a deeper feel on the holiness of Islam.
Born in about 570 CE in the Arabian city of Mecca, Muhammad was orphaned at an early age and brought up under the care of his uncle Abu Talib. He later worked mostly as a merchant, as well as a shepherd, and was first married by age 25.Being in the habit of periodically retreating to a cave in the surrounding mountains for several nights of seclusion and prayer, he later reported that it was there, at age 40, that he received his first revelation from God. Three years after this event Muhammad started preaching these revelations publicly, proclaiming that "God is One", that complete "surrender" to Him is the only way acceptable to God, and that he himself was a prophet and messenger of God, in the same vein as other Islamic prophets.

This holy and historical artwork will make an impressive addition to your collection. Buy it and bring home the blessings of Muhammad.