---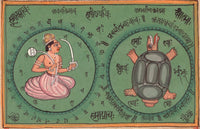 Kurma Tantrik Art
Subject: Indian Miniature Painting – Tantric Hindu Art

Paint Material: Opaque Watercolors

Base Material: Paper (unframed)

Size: 6 in. wide and 4 in. tall (15 cms X 10 cms)

Age: Modern Handmade Art

Country of origin: India

Free Shipping Worldwide & No hassle return
You will treasure this unique Kurma Tantric Hindu art from the western state of Rajasthan, India. Kurma is the second Avatar of Vishnu in Hinduism.
Tantra/Tantric is the name scholars give to an inter-religious spiritual movement that arose in medieval India in the fifth century CE. Expressed in scriptures Tantras impacted every major Asian religion extant in the early medieval period: thus Shaivism, Buddhism, Vaishnavism, and Jainism all developed a Tantric dimension.
Order now to add this Kurma Tantric art to your collection or decor.