---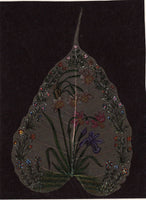 Floral Pattern Design
Subject: Peepal Leaf Painting

Paint Material: Acrylic colors

Base Material: Dried Peepal Leaf (unframed)

Size: 8 in. X 11 in. (20 cms X 28 cms)

Age: Modern Handmade Art

Country of origin: India

Free Shipping Worldwide & No hassle return
Presenting a beautiful and rare floral pattern design painting on a Peepal leaf . This stunning delicate work of art came from India and is done on dry Peepal heart shaped leaves. 
The peepal tree has been associated with Indian sacred traditions and art, since time immemorial. Its heart-shaped leaves have long, tapering tips. This slender fan-shaped leaf lends itself to the beautiful and ancient art of leaf painting. 
The typical themes of the paintings are figures from Hindu mythology, animals and scenery. Modern abstract art also provides a theme for this form of painting. Peepal leaf paintings are used to decorate wedding cards, greeting cards, wall hangings, bookmarks etc.

An unique handmade Indian Peepal leaf artwork that will provide a striking appearance to your decor or painting collection. Buy this art today.