---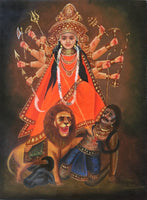 Durga banishes Mahishasura
Subject: Indian Goddess Painting 

Paint Material: Opaque Oil Colors

Base Material: Canvas (unframed)

Size: 17 in. wide X 23 in. tall (43 cms X 58.5 cms)

Age: Modern Handmade Art

Country of origin: India

Free Shipping Worldwide & No hassle return
Your decor will bear a sophisticated and cultured look when adorned with this striking painting featuring the Hindu Goddess Durga, one of the most popular incarnations of the Devi. Meaning "invincible" or "inaccessible", Durga represents the ultimate Shakti, worshiped for her gracefulness as well as the spiritual aspects she symbolizes.
The theme of this artwork captures the episode commonly seen during the annual worship of Durga during Durga puja in West Bengal, and is represented in pandals (a temporary structure set up to venerate the gods in India) which depicts Durga killing Mahishasura. Mahishasura is a buffalo demon in Hindu mythology, known for deception and who pursued his evil ways by shape shifting into different forms. He was ultimately killed by Durga in her Mahishasuramardini form. It is an important symbolism-filled legend in Hindu mythology, particularly Shaktism.
Rich and intricate, this compact composition of the Goddess is also bright, colorful and breathtakingly beautiful. 
This unique painting will make a wonderful addition to any family home, whether simply for the art or as a homage to one of Hinduism's most beloved goddesses.
Don't miss out on this exclusive Durga artwork. Buy it today.