---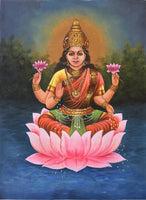 Lakshmi the Goddess of Wealth
Subject: Indian Goddess Painting 

Paint Material: Opaque oil colors

Base Material: Canvas (unframed)

Size: 17 in. wide X 23 in. tall (43 cms X 58.5 cms)

Age: Modern Handmade Art

Country of origin: India

Free Shipping Worldwide & Hassle free return
Presenting an angelic embossed art of Lakshmi who is the Hindu Goddess of wealth and prosperity, both material and spiritual.
The painting is a glowing tribute to the Goddess. It is a traditional art form in which considerable importance is given to symbolism, rich detailing, bright colors and intricate drawing.
The artwork depicts her in the most popular stance, with four arms wearing a red sari with gold lining and sitting on a lotus flower. She holds golden coins and lotuses in her hands. The symbolisms convey many complex spiritual themes. In Indian Hindu mythology, Goddess Lakshmi, also called Shri, is the divine spouse of Lord Vishnu and provides him with wealth for the maintenance and preservation of the creation. Goddess Lakshmi is regularly worshipped in home shrines and temples by her devotees. A special worship is offered to her annually on the auspicious day of Diwali, with religious rituals and colorful ceremonies specifically devoted to her.
Garner the blessings of Goddess Lakshmi by bringing this artwork to your home or office. Buy it today.
NOTE: The slight white spot on helmet area is from the scan and does not exist in actual art.