---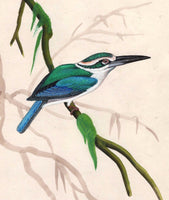 Mangrove Kingfisher  
Subject: Indian Bird Miniature Painting

Paint Material: Watercolor

Base Material: Paper (unframed)

Size: 7 in. wide X 10 in. tall (18 cms X 25.5 cms).

Age: Modern Handmade Art

Country of origin: India

Free Shipping Worldwide & No hassle return.
Enhance your decor with the beauty of this exquisitely detailed & stunningly beautiful hand-made bird miniature from the western state of Rajasthan, India.
The Mangrove Kingfisher is a medium-sized kingfisher belonging to the family of the tree kingfishers. It has a wide range extending from the Red Sea across southern Asia and Australasia to Polynesia. It is a very variable species with about 50 subspecies. It has a variety of calls which vary geographically. The most typical call is loud, harsh and metallic and is repeated several times. It is most commonly found in coastal areas, particularly in mangrove swamps. Birds often perch conspicuously on wires, rocks or bare branches.
Only one in stock. Don't miss out on this exclusive artwork of one of nature's unique bird! Buy now.