---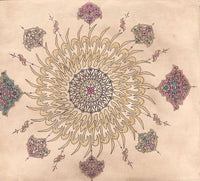 Tazhib Islamic Holy Writings

Subject: Islamic Calligraphy

Paint Material: Ink colors

Base Material: Paper (unframed)

Size: 12.5 in. wide and 11 in. tall (32 cms X 28 cms)

Age: Modern Handmade Art

Country of origin: India

Free Shipping Worldwide & No hassle return
Beautiful Islamic Calligraphy
You will savor every moment viewing this brilliant artwork that captures the writings of the word of God. So why not make it a permanent part of your décor or collection?
You get a superbly hand-painted art on paper that contains Islamic scripts surrounded by stylized flower and motif designs.
The brilliant use of colors and the texture of the calligraphy is well balanced so as to make the whole composition appealing. The symmetry in the compositions is remarkable. The Quranic verses along with the splendor of Islamic motifs enrich the artwork to provide sheer visual pleasure.
Take possession of this beautiful Islamic Calligraphy artwork for your collection or decor. Buy it today.