---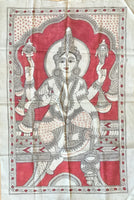 Hindu Goddess
Subject: Goddess Kalamkari Painting

Paint Material: Dye colors

Base Material: Cotton (unframed)

Size: 20 in. X 31 in. (51 cms X 79 cms)

Age: Modern Handmade Art

Country of origin: India

Free Shipping Worldwide & No hassle return
This painting is an exquisite work of Kalamkari art featuring a Hindu Goddess and handmade in a colorful design & border.
Kalamkari or qalamkari is a type of hand-painted cotton textile, produced in parts of India and Iran. Its name originates from the Persian words qalam (pen) and kari (craftmanship), meaning drawing with a pen. The "kalam" or pen is used for free hand drawing of the subject and filling in the colors.
This style flowered around temples and their patronage and so had an almost religious identity – scrolls, temple hangings, chariot banners and the like, depicted deities and scenes taken from the Hindu epics. Modern artists, mainly form South India, continue to practice this traditional art form.
An unique Indian folk artwork for your decor or collection. Buy this Goddess kalamkari artwork today.
NOTE: This artwork will be sent folded flat.