---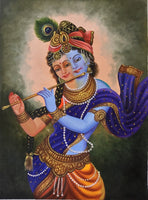 Shades of spirituality and love
Subject: Krishna Radha Painting 

Paint Material: Opaque Oil colors

Base Material: Canvas (unframed)

Size: 17 in. wide X 23 in. tall (43 cms X 58.5 cms)

Age: Modern Handmade Art

Country of origin: India

Free Shipping Worldwide & No hassle return
Your decor will bear a dazzling and cultured look when adorned with this striking painting featuring Krishna and Radha.
Painted with rich, jewel-like subtle colors this compact composition of the Hindu deity is also bright, colorful and breathtakingly beautiful.
Love isn't about being married or being with someone. Love is being connected from the soul.  That's exactly what Radha and Krishna had. They thought about each other every moment of their lives that they became one being in one body. And that is what this art attempts to capture. Because Radha's love was so pure, she achieved God Status! Whenever you hear the flute play or see a dance, Radha and Krishna are there invisibly enjoying themselves, too. They are in Heaven together now as one entity. You cannot say Krishna without saying Radha, and you cannot say Radha without thinking of Krishna. That is how strong their love is. Any picture you see of Krishna, it is not complete without Radha. Their love is an undying flame that will continue to burn. Just so beautiful! 
This canvas with Krishna and Radha is cool and playful and captures the essence of the divine couple's love. The artist has used several colors to represent attitude, playfulness, love and even lust. Krishna's blue along with Radha's pink is used in a perfect balance and is soothing to the eye.
To acquire this unique artwork of Krishna and Radha  – for yourself or as an unforgettable gift – don't delay. Order today!