---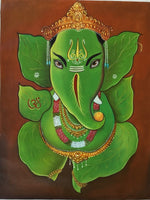 Green Leaf Ganesh
Subject: Ganesh Painting

Paint Material: Oil Colors

Base Material: Canvas (unframed)

Size: 17 in. wide X 23 in. tall (43 cms X 58.5 cms)

Age: Modern Handmade Art

Country of origin: India

Free Shipping Worldwide & No hassle return
Flaunt your love for Ganesh, who is shown in a unique form of a green leaf, in this colorful and detailed painting.
The Hindu God Ganesh is looked upon as being a truly powerful force because it is believed that he has the ability to get rid of obstacles in your life. Just imagine…a special place in your home for this art of Hindu God Ganesha…picture yourself surrounded by a warmth and affection that shows up in your day-to-day life. This is the power in owning clips of Hindu God Ganesha.
Don't miss out on this exclusive artwork composition of Lord Ganesh. Buy it today.