---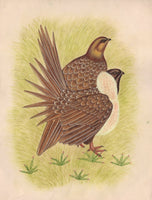 Pair of Quails
Subject: Indian Bird Miniature Painting

Paint Material: Opaque watercolors

Base Material: Paper (unframed)

Size: 9 in. wide X 11 in. tall (23 cms X 28 cms)

Age: Modern Handmade Art

Country of origin: India

Free Shipping Worldwide & No hassle return
Presenting a striking pair of Quail birds - the best of art and nature, in one stunningly lifelike painting!! ..creating a breathtaking medley of color and beauty.
Adding to the beauty and realism of the bird, the art is masterfully painted by hand. Working in a palette of vibrant, authentic colors, the skilled artisans add vital, often delicate touches that help make the artwork as wondrous and lifelike as the scene that inspired it. From the birds bright wings to the intricate beak coloration, the result is an impressive artistic triumph that simply must be experienced firsthand.
With its exceptional realism and artistry, the bird artwork will earn a place in your workplace or home. A must-have art that will delight all who see it, the art would also make a great gift for any birdwatcher or nature enthusiast. For earliest possible delivery, don't delay; order today.