---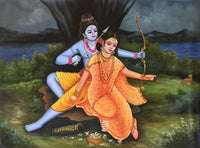 Rama & Sita seated in the forest
Subject: Indian Religious Miniature Painting

Paint Material: Opaque oil colors

Base Material: Canvas (unframed)

Size: 23 in. wide X 17 in. tall (58.5 cms X 43 cms)

Age: Modern Handmade Art

Country of origin: India

Free Shipping Worldwide & No hassle return
You'll treasure this beautiful painting of Lord Rama and Sita seated in the forest reflecting their glory, love and respect.
Lord Rama is one of the most commonly adored gods of Hindus and is known as an ideal man and hero of the epic Ramayana. Lord Rama is the seventh incarnation of Lord Vishnu. Lord Rama is said to have taken birth on earth to annihilate the evil forces of the age. He is always holding a bow and arrow indicating his readiness to destroy evils.
Sita is the consort of Lord Rama. Sita is the one of the most popular goddesses of Hindu religion. She is regarded as the incarnation of Goddess Lakshmi, the divine consort of Lord Vishnu. Sita is considered as the ideal daughter, ideal wife, and ideal mother. Sita is remembered for her virtues and attributes and symbolizes all that is noble in womanhood.
To acquire this artwork of Rama and Sita – for yourself or as an unforgettable gift – don't delay. Order it today.