---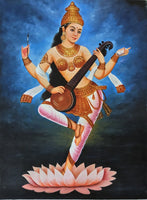 Saraswati – Goddess of Learning and Wisdom
Subject: Indian Goddess Painting 

Paint Material: Opaque oil colors

Base Material: Canvas (unframed)

Size: 17 in. wide X 23 in. tall (43 cms X 58.5 cms)

Age: Modern Handmade Art

Country of origin: India

Free Shipping Worldwide & Hassle free return
Presenting an angelic art of Saraswati who is the Hindu Goddess of knowledge, music, arts, wisdom and learning.
The painting is a glowing tribute to the Goddess. It is a traditional art form in which considerable importance is given to symbolism, rich detailing, bright colors and intricate drawing.
Saraswati is the goddess of knowledge and the mistress of the arts, and is the consort of Brahma. She rules the intellectual and creative realm, and is the patron saint of libraries and schools. She is often depicted standing on a lotus flower, dressed traditionally and playing the veena (srtinged musical instrument) to attain a higher intellectual calling.
Garner the blessings of Goddess Saraswati by bringing this artwork to your home or office.